Keep An Eye On Your Property
Security Cameras can be a great option to secure your home or business. In addition to deterring crime,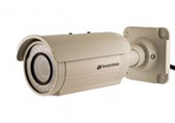 they will create a visual record in the event that a crime does occur. When deciding what type of system you need, it is advantageous to use a professional. We can assess your needs and design the right solution for your home or business, no matter the size. Simply call us at 405-478-1620 to schedule a free no-obligation estimate.
Featured Item
The sleek, user-friendly Plug & Play MPEG IP camera is a great solution for those who want a simple solution to video surveillance, but don't want to sacrifice quality. This camera allows for remote monitoring from a computer or mobile device. It supports resolution of up to 640x480 pixels and also includes a feature that can alert you when motion is detected. Get a high-quality option without the high-quality price. Call us today to purchase yours or schedule an installation.
What We Offer
Security Cameras

We can offer virtually any camera, including infared, day/night, wireless, dome, and network cameras.
Digital Recorders

Storing video images digitally on a hard drive is now the most popular option. This allows for much better picture quality, less maintenance, improved storage, and better search capability.
Remote Viewing

Effortlessly monitor your property using your computer or wireless device.
Monitors

We offer a full line of monitor sizes, types, and resolutions.